I have few friends who dont posses any sort of underware in their wardrobe whatsoever. It's almost impossible for me not to wear anything under my pants or 'kain pelikat', furthermore I'm an 'underware fetish'!. I can't remember since when I started wearing underware, but certainly after my 'circumcision' time. I wear all sorts of underware, as long as it is comfortable and 'meet the purpose'... you know what I meant.... for leisure, sporting, outdoor activities etc. and I'm normally wears Boxer instead of pyjama and 'kain pelikat' (I had few embarassement moments wearing Kain Pelikat during sleeping - kain kemana, aku kemana akhirnya.....). Lets read the article below;
Checkered styled "Kain Pelikat' or men Sarong wears by people in Malay Archipelago, Southern India, Bangladesh etc
Are you adventurous with the styles of underwear that you wear? Frequently, men wear the same type and style of underwear that they have always worn their whole life. As human males, we are creatures of habit. That means that we do things just because "it" is always what we do, no other real reason. If you ask us why we wear a certain style of underwear, we will almost always say, "Because they are comfortable"; but could adding some adventure to your underwear collection be fun too? We think so. There are many reasons to support this statement. For example, consider the different things that can come into play for considering new underwear; the way it fits, looks, comfort, easy to wash, etc…Even consider if you are trying to impress someone, then how do you want them to see you? Do you want your front side to look better, back side to look better, or both?
So take yourself shopping and try some new types and styles of underwear and see how it feels. You might want to buy all of them when you feel how great they are on you! This may help your personal confidence and sexuality as well. Be a daring and open spirit and have some fun!
What type of underwear will be your style?
Bikini
I can't wear red underware, it will make me horny..... but this style is definitely my all time fav.
A guy that might wear this kind of underwear should not be hairy or should have their body hair trimmed and shaved. At least this is what society says about good looking guys in bikini underwear. I don't suggest this style for someone who has a few extra pounds or more. So this just would be perfect for those who have nice abs or are in decent shape, but hey - anyone can try it.
Pros: Perfect for nice body. This will help you look fabulous and sexy.
Cons: Not everyone will look good in these by society's standards, but you could feel great.
Boxer
I love checkered Boxer! but not the fancy and striking one.... will be sleepless...
This style of underwear is very popular with some men. In some ways, they are much cooler to wear in hot weather because they do not hold the man's genitals tight or close to the body. Many guys like boxers because it lets their package to hang loose which gives a cooler and free feeling. But be careful wearing boxer shorts because if you get excited or aroused, everyone will be able to see your excitement! Boxers do not work that good if you like to wear tight pants however.
Brief
Briefs are probably the most popular type of underwear. This style is almost always comfortable if you buy the correct size. Be careful however, if you buy this underwear in a size that is too small. They will definitely be uncomfortable if they are too small. This is a great style of underwear if you like to wear tight pants. They will keep their shape and not really move in tight pants. The problem with briefs is that they will keep your package warmer. If you live in a place that is hot, these will make you hotter.

Thong
Some adventurous people like to wear thong underwear. These can give you a good feeling of freedom because there is not very much cloth used at all. Actually, the only part of thong underwear that will do anything in the pouch in the front that will hold your package in place. If you like a big feeling of freedom and you don't mind a string that will lay on the crack of your butt, then you will Love to wear a Thong!
And what is this?!!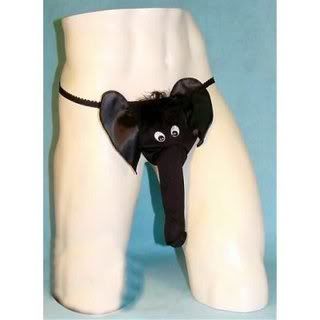 Dare to wear to surprise your partner? Kinky.....